15th Annual Meeting of the Association of European Vertebrate Palaeontologists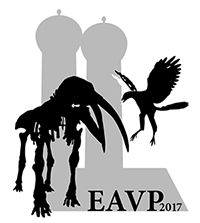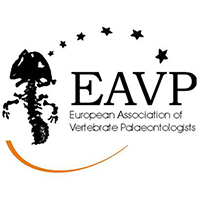 The European Association of Vertebrate Palaeontologists was founded in 2003. Its annual meetings provide an international forum for information on novel and ongoing research as well as existing work groups across all subfields of Vertebrate Palaeontology (systematics, morphology, evolutionary development, biostratigraphy, inter- and transdisciplinary research, methodology, fossil conservation). A major focus is international collaboration with great attention on encouragement and assistance for students to become part in projects and a source of future vertebrate palaeontologists.
On behalf of the host committee you are cordially invited to attend the 15th Annual Meeting of the European Association of Vertebrate Palaeontologists (EAVP), which will take place from 1st – 3rd August 2017 at the Palaeontological Museum Munich, Germany.
The meeting will be hosted by the GeoBio-CenterLMU.
CALL for ABSTRACTS!
Abstract submissions will be accepted by 30th April 2017. Please find further instructions for abstract submission below.
REGISTRATION is OPEN
Please find further instructions below.
Call for Symposia is closed.
Proposals are currently under review. Decisions will be announced by 31st March 2017.
Proposed Schedule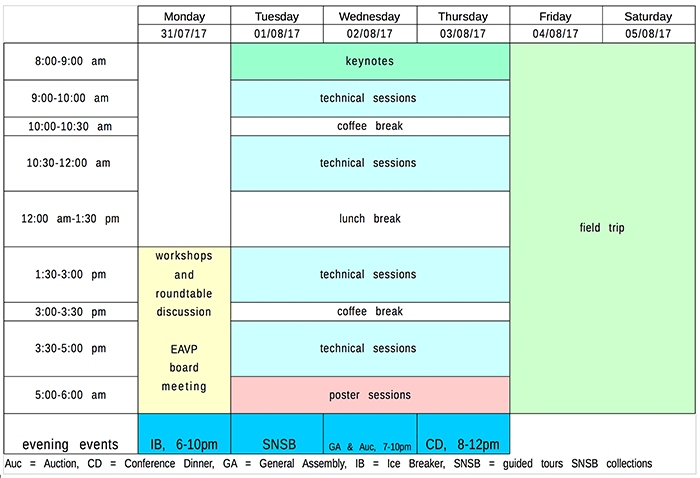 Invited Speakers
Bhart-Anjan Bhullar, Yale University, New Haven (CT), USA
Daniel DeMiguel, Institut Català de Paleontologia, Barcelona, Spain
Anjali Goswami, University College London, London, UK
Alexandra Houssaye, Musée Nationale d'Histoire Naturelle / CNRS, Paris, France
Walter Joyce, University of Fribourg, Fribourg, Switzerland
Serdar Mayda, Ege University, Izmir, Turkey
Maria McNamara, University College Cork, Cork, Ireland
Dates & Deadlines
Deadline for symposia proposals: 28 February 2017
Start of registration & call for abstracts: 1 March 2017
Symposia decisions announced & second circular available: 31 March 2017
Deadline for abstract submission: 30 April 2017
Abstract decisions announced: 1 June 2017
Deadline early bird registration: 15 June 2017
Deadline regular registration: 1 July 2017
Third circular available: 15 July 2017
Pre-Meeting Workshops & Roundtable Discussion
Neutron Imaging - Information beyond X-rays.
Introduction to the Antares (Advanced Neutron Tomography And Radiography
Experimental System) – facility at Heinz Maier-Leibnitz center of TU München
Workshop held by Burkhard Schillinger
Photogrammetry basics for palaeontologists - how to take pictures and create a 3D model
Workshop held by Heinrich Mallison & Matteo Belvedere
Introduction to Finite Element Analysis
Workshop held by Jordi Marcé-Nogué
(sponsored by Transmitting Science)
Women in palaeontology and ways to address gender disparity in career progression in STEM subjects
Roundtable discussion
Registration and Abstract Submission
In preparation for abstract submission and registration for EAVP 2017 please register as user on our web-based event management system. Abstracts can be submitted from 1st March after re-login and may neither exceed 250 words nor include citations, references or figures.
Registration fees (Euro)
| | student | | regular | |
| --- | --- | --- | --- | --- |
| | member | non-member | member | non-member |
| early bird | 40 | 60 | 80 | 100 |
| standard | 60 | 80 | 120 | 140 |
| late | 80 | 100 | 160 | 180 |
Registration fees include ice-breaker reception, auction, and coffee breaks.
Venue
Palaeontological Museum Munich
Richard-Wagner-Str. 10
80333 München
More information about the location, accommodation and travel
Contact
Gertrud Rössner
SNSB – Bayerische Staatssammlung für Paläontologie und Geologie
Richard-Wagner-Str. 10
80333 München
Germany
Tel.: +49 (0)89 2180 6609 | Fax: +49 (0)89 2180 6601
E-Mail: eavp2017@lrz.uni-muenchen.de
Local Organising Committee
Gertrud Rössner (BSPG)
Oliver Rauhut (BSPG)
Ella Schönhofer (BSPG)
Diego Castanera (BSPG)
Martine Focke (BSPG)
Lydia Geißler (LMU)
Zeinab Gholami (LMU)
Anneke van Heteren (ZSM)
Michael Hiermeier (ZSM)
Femke Holwerda (BSPG)
Student Committee
Mario Bronzati (Munich)
YiYin Chang (Munich)
Jonathan Guzmán (Munich)
Charalampos Kevrekidis (Munich)
Melanie Lex (Munich)
Volkan Özen (Munich)
Lilly-Sophie Rettenbacher (Munich)
Ann-Marie Schilling (Munich)
Mart Smeets (Utrecht)
Tom Trapman (Utrecht)
Scientific Committee
Gertrud Rössner (Munich)
Oliver Rauhut (Munich)
Matteo Belvedere (Berlin)
Diego Castanera (Munich)
Dino Frey (Karlsruhe)
Anneke van Heteren (Munich)
Edina Prondvai (Ghent)
Bettina Reichenbacher (Munich)
Koen Stein (Brussels)
About the logo
The conference logo is a composite of the Munich cathedral, Archaeopteryx and the gomphothere skeleton at the Palaeontological Museum Munich. The cathedral is one of the landmarks of Munich in the very centre of the city. From 1468 to 1488 the gothic clinker building was completed in a relatively short time span, except for the helmet roofs, which lack a gothic design. Those were installed in 1525 and copied from the Dome of the Rock in Jerusalem. Our logo displays in the background the outline of the towers from a side view, making them look unequally high.
In the front, Gomphotherium and Archaeopteryx, two Munich related vertebrate fossils, greet themselves. Munich palaeontological institutions, university Chair of Palaeontology and the Bavarian State Collection of Palaeontology and Geology (BSPG) always were involved in disputes around Archaeopteryx findings. This is due to the fact that the Jurassic sites they come from are Bavarian (ca. 100 km north of Munich). However, besides one of the two limestone plates preserving the original Archaeopteryx feather from 1860, it took until 1999 before the BSPG was able to secure an Archaeopteryx skeleton, the 7th specimen, in its own collections.
In 1971/1972, the 5 m long and 3 m high Gomphotherium skeleton was unearthed by staff members of both Munich palaeontological institutions from Miocene sediments 70 km east of Munich. After preservation of the bones, cast preparation and mounting, the skeleton was put on display in 1978. Since then, it has become the centrepiece and landmark of the Palaeontological Museum Munich. In the 1990's, scientific investigation followed and so far it still is the only scientifically described Gomphotherium skeleton.
The logo was designed by Gertrud Rössner & Lydia Geissler and graphically elaborated by Lydia Geissler.