Annual Meeting of the Paleontological Society (Paläontologische Gesellschaft) 2019
15 –18 September 2019 in Munich
The detailed (preliminary) program can be downloaded HERE.



Link to the German Website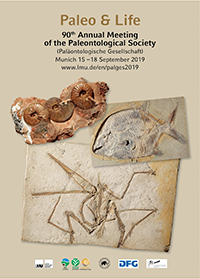 We are happy to announce the Annual conference of the Paläontologische Gesellschaft (PalGes) in Munich. We aim to organize an international meeting at which cutting-edge research in the fields of paleontology, geobiology and paleobiology is presented. PalGes is one of the oldest and largest paleontogical societies of the world and it is the fifth time that this conference is held in Munich (1950, 1960, 1985, 2010, 2019).
Munich is Bavaria's beautiful capital situated at the foot of the Alps and surrounded by several picturesque lakes. It has been ranked among the top cities in terms of life quality, is famous for its museums and beer gardens. Munich is also a top place for natural sciences.
Organizers and sponsors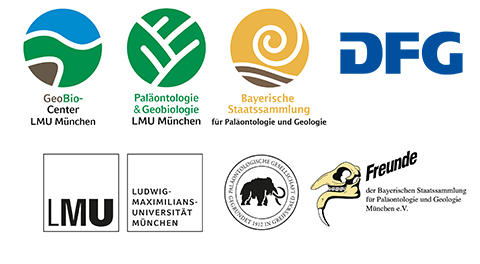 Conference organizers
Venues
Department for Earth and Environmental Sciences and Paläontologisches Museum
Richard Wagner Str. 10 and Luisenstr. 37
80333 München
Germany
Organizing committee
Alexander Nützel
Carolin Haug
Joachim Haug
Michael Krings
Oliver Rauhut
Mike Reich
Bettina Reichenbacher
Gertrud Rössner
Gert Wörheide
Contact
Office: Ella Schönhofer, 0049-089/2180 6630
Alexander Nützel 0049-089/2180 6611
E-mail: palges2019@palmuc.org
Registration and submission of abstracts
1. step: create an user account
2. step: registration
3. step: abstract submission under Your Submissions
Register here
https://www.conftool.org/palges-tagung-2019/
Conference fees
Early Bird
(until 15. July)
Late
(until 15. August)
Regular, member of PalGes or GfbS
210 €
240 €
Regular, non-member
270 €
300 €
Student, member of PalGes or GfbS
80 €
110 €
Student, non-member
125 €
155 €
Field trip
40 €
40 €
Conference fees include Conference Dinner and Icebreaker
Students and PhD students pay reduced fees
Members of the Paläontologische Gesellschaft (PalGes) and the Gesellschaft für biologische Systematik (GfbS) receive a discount. Become a member, receive a discount and support Paleontology! https://www.palges.de/
Deadlines
Abstract und Early Bird-Registration: 15.7.2019
Registration: 15.8.2019
Abstracts contain
names of authors
affiliations
not more than 300 words
no illustrations
no references
Young Scientist Award
Early career scientists may apply for the Young Scientist Award (YSA) for the best oral presentation (1.: 500€, 2: 300€, 3.: 200€). According to EGU an early career scientist (ECS) is an undergraduate or postgraduate (Masters/PhD) student or a scientist who has received his or her highest degree (BSc, MSc, or PhD) within the past seven years (parental leave may be considered).
If you apply, click "Young Scientist Award" when submitting your abstract!
PeerJ Award-open data
For inququiries please contact Kenneth de Baets kenneth.debaets@fau.de
Symposia and workshops
Symposia
Evolving ecosystems (Organizers: Alexander Nützel & Joachim Haug) more details
Fossil fishes in the context of evolution, environments and biogeography (Organizers: Bettina Reichenbacher, Tomas Přikryl & Gloria Arratia) more details
Late Paleozoic and Mesozoic Plants and Floras (Organizers: Michael Krings, Benjamin Bomfleur & Christian Pott)
Micropaleontology (Organizer: Anna Pint) more details
Molecular Geobiology and Paleobiology (Organisation: Gert Wörheide, Dirk Erpenbeck, Sebastian Höhna, William Orsi) more details
Physiology in Deep Time (Organizers: Uwe Balthasar, Kenneth De Baets, Carl Reddin, Nussaïbah Raja Schoob)
more details
Workshops
Total-evidence divergence time estimation from extinct and extant taxa (Convener: Sebastian Höhna) more details
Open data analysis and publication: from morphology to evolutionary patterns (Conveners: Emilia Jarochowska and Kenneth De Baets; Guest speakers: Melanie Hopkins & Stephan Lautenschlager)

The focus of this workshop is to highlight importance of new methods to improve scientific reproducibility and discuss best practices to share research in Paleontology. more details
Field trips
Pre-conference, 15th September 2019
Vertebrate excavation Hammerschmiede, Miocene Molasse Basin; organizer: Madelaine Böhme
Upper Jurassic Plattenkalke (lithographic limestones) of Solnhofen and Eichstätt (includes visit of the Solnhofen Museums); organizer: Martin Röper
Post-conference, 19th September 2019
Paleontology und geology of the Miocene Ries meteor crater, Nördlingen (includes visit of the Rieskrater-Museum); organizer: Stefan Hölzl
Program
Talks are in English and in exceptional cases in German. Click here for the pdf version of the detailed program and schedule.
Sunday, Sept. 15, 2019
Work group/Section meetings, board meetings,
Pre-conference field trip
From 4 pm Registration
6 pm Icebreaker – until late in the night
Monday, Sept. 16, 2019
8 am Registration
9 am–6 pm Welcome addresses, plenary-talks, symposia, poster session
6 pm Business meeting paläontolopgische Gesellschaft
Tuesday, Sept. 17, 2019
8 am –4 pm Talks

6 -7:15 pm Public evening lecture "Planet Earth and its very first inhabitants" (talk in German), to be delivered by the popular astrophysicist and science journalist Harald Lesch
(Foto: Gerald v. Foris)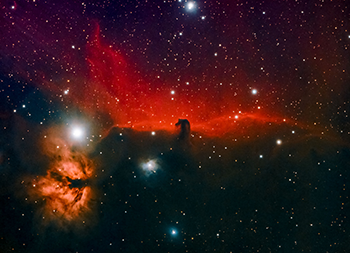 Horsehead Nebula (Photo: Christian Schulbert, Erlangen)
7:30 pm until late in the night Conference Dinner at Munich's beautiful botanical garden
Wednesday, Sept. 18, 2019
8 am –4 pm Talks, Closing ceremony with a plenary lecture, awards
Thursday, Sept. 19, 2019
Post-conference field trip, Work group/Section meetings
Plenary and Keynote Talks


Per Ahlberg, Uppsala: What, if anything, is a placoderm? New discoveries and insights from the gnathostome stem group
Gloria Arratia, Lawrence: Fishes in a temporal dimension: Origins, radiations, and extinctions
Donald E. Canfield, Odense: Life at Low Oxygen
William A. DiMichele, Washington: Late Paleozoic xeromorphic floral elements as upland, extrabasinal, and/or paleoclimatic indicators, and why it is important to clarify the confusion surrounding these concepts.
Alex Dunhill, Leeds: Community structure and ecosystem collapse across major extinction events.
Melanie J. Hopkins, New York: New approaches to peer review in the age of online, open-access publishing.
Wolfgang Kiessling: Do reefs evolve?
Olga Otero, Poitiers: Fish fossils and the reconstruction of continental paleoenvironments
Jakob Vinther, Bristol: Fossils, molecules, development and morphology suggest that comb jellies (Ctenophora) are coelenterate diploblasts
Important: Conference participants are independently responsible for their transportation to and from the venue, as well as for hotel or accomodation in Munich, and are recommended to make arrangements as early as possible. Munich in fall is peak tourist season, and last-minute affordable accomodation is limited.
Hotel information http://www.muenchen.de/hotel
Biomin XV: 15th International Symposium on Biomineralization
Before our PalGes-meeting this very interesting symposium will also be held in Munich (9–13 September 2019) and participants may consider to attend both meetings: www.biomin2019.de
Additional information on symposia and workshops
Symposia
Evolving ecosystems
Organizers: Alexander Nützel & Joachim Haug
It is clear that ecosystems change over time. The possible reasons for that are manifold. First, environmental conditions such as climate or paleogeography changed over time. At the same time the players i. e., the organisms evolved and new adaptations and ecological niches formed. Mass extinctions may have acted as game changers during this complex process. Our symposium aims to describe and interpret such changes. Case studies from all realms, both terrestrial and marine, and from all time intervals would be welcome as well as analytical big picture contributions.

Fossil fishes in the context of evolution, environments and biogeography
Organizers: Bettina Reichenbacher, Tomas Přikryl & Gloria Arratia
The total number of living fish species is approximately 33,600, which accounts for about 50% of all living vertebrate species. Exploring the evolutionary history of this unique diversity is not only a current issue for paleontologists, but also provides key information for a general understanding of present-day aquatic ecosystems. Our primary goal in organizing this symposium is to exchange results of current studies and how these contribute to our understanding of the evolutionary history of fishes. We welcome oral or poster contributions dealing with the evolution, environments and biogeography of fossil fishes from all Periods and from all over the world. The more we know about the fossil record of fishes, the more engaging the questions will be. Our second aim is togather the paleo-ichthyological community to increase communication and collaboration among colleagues.
Micropaleontology
(Organizer: Anna Pint)
Microfossils are important tools in Quaternary Geology, Physical Geography, paleooceanography, paleoclimatology and geoarchaeology. Their assemblage composition, environmental induced morphological reactions and shell chemistry signatures enable reconstructing a wide range of environmental factors in aquatic or terrestrial ecosystems.
The small size of microfossils and their high diversity enable studying large associations, often with well preserved and complete individuals even from small samples as typical from sediment cores. Ecological preferences and tolerances of taxa are used for reconstruction of paleoenvironments, their biostratigraphical ranges for bringing strata into a chronological order. The great value of microfossils for geoscience is their application but as past organisms they are excellent paleontological study objects in their own as well. The session presents geological applications of microfossils as well as paleobiological studies.
Molecular Geobiology and Paleobiology
Organizers: Gert Wörheide, Dirk Erpenbeck, Sebastian Höhna, William Orsi
Molecular geobiology and paleobiology uses molecular biological methods on extant organisms to address geoscience-relevant questions. Applications include reconstructing the metabolic capabilities of microbes in extreme environments, such as the deep biosphere, resolving animal evolution, including molecular clocks that integrate the fossil record with molecular phylogenies to estimate clade ages, as well as reconstructing molecular mechanisms and the evolution of microbial and animal biomineralization. This symposium will showcase recent advances in these areas that are central to geobiological and paleontological research and evolutionary (paleo)biology in general.

Physiology in Deep Time: from proxies to evolutionary trends
Organizers: Uwe Balthasar, Kenneth De Baets, Carl Reddin, Nussaïbah Raja Schoob
Organisms with different physiologies are expected to respond differently to global environmental changes. Future environments may resemble conditions that have not existed for millions of years. To assess strategies and conditions tolerated by particular organisms, it is necessary to understand how biomineralization, body size, environmental tolerance, metabolic rates, and physiological responses relate with the paleoenvironmental changes in the deep past. To address these questions, relevant proxies from modern organisms need to be combined with the fossil record. We welcome contributions focusing on individual groups, time-intervals, or large-scale temporal or organismal patterns across the geological record.
Workshops
Open Data and Analysis: from morphology to evolutionary patterns
Organizers: Kenneth De Baets & Emilia Jarochowska
Guest speakers: Melanie Hopkins (AMNH; part of PCI Paleontology and PBDB), Stephan Lautenschlager (best practices for big data and 3D pdfs)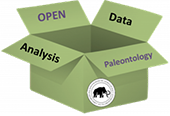 A key aspect of scientific research is reproducibility. This is also the case for paleontological research focusing on evolutionary or morphological patterns in deep time. Particularly relevant meta-data including sample size, qualitative and quantitative morphological information, stratigraphic and taphonomic context, as well age constraints can be crucial in ground-truthing scientific studies and making them reusable for further research. There is an increasing number of possibilities to make data and research available, ranging from large-scale database and novel publication opportunities to platforms which allow storing large data volumes. Two of them, Morphobank and Paleobiology Database, will be presented in the keynote by Dr. Melanie Hopkins. In cases where competition might be an issue, such platforms also allow embargoed access during initial research or peer review with a code of conduct. There are additional opportunities allowing publication of preprints (before and after peer-review) and one of them, PCI Paleo, will be presented in detail. Among other advantages, preprints may be a way to preserve valid scientific data which led to negative or inconclusive results that would not get published otherwise. Stephen Lautenschlager has been invited to present on the best way to make tomographic virtually available. The focus of this workshop is to highlight importance of new methods to improve scientific reproducibility and discuss best practices in sharing research. We invite contributions concerning the methods and tools fostering data sharing and reproducibility, positive and negative case studies, and all voices and opinions concerning the current obstacles and potential solutions in paleontology. We plan to close our workshop with a joint discussion on future of Open Data and Analysis in our field.
Award for Open Data Analysis and Publication in Paleontology: Early career research presenting on a topic related to Open Data and Analysis: from morphology to evolutionary patterns during the Annual Meeting of the Paläontologische Gesellschaft 2019 qualify for an award. The winner of the best presentation pertaining to Open Data and Analysis will be selected by an independent committee from among Early Career (up to 7 years after the PhD) conference presenters who applied for the award. The award will be sponsored by the PeerJ Awards Program of the PeerJ journal and will be followed by an interview for the PeerJ blog on the research of the winner as well as the opportunity of publishing an open access article free of charge (pending its gets through normal peer review).
The criteria for the award will be: the use of Open Access journals or preprint servers to make the presented research available, the use of Open Access archiving tools (such as Morphobank, PBDB and others) to make the data and/or code available to the community, the presenter's demonstrated commitment to Open Access.
Total-evidence divergence time estimation from extinct and extant taxa
Organizer: Sebastian Höhna
1) Introduction to RevBayes, Bayesian inference, phylogenetics, etc
2) Estimating divergence times from molecular data only
3) Estimating divergence times from molecular data and fossil occurrences using the fossilized-birth-death process
4) Estimating divergence times from molecular and morphological data using the fossilized-birth-death process