Statutes
The GeoBio-CenterLMU was founded on August, 5th 2002 and represents an institutionalized working group organization of researchers concentrating on interdisciplinary research, by using innovative, transdisciplinary methods and/or directly collaborating among different disciplines. The GeoBio-CenterLMU is open to all kind of cooperation and collaboration in the field of geobiology. Its main goals are transdisciplinary cooperation in research and education.
Financially, the GeoBio-CenterLMU largely relates on research-fund-projects by its members. In addition the Center was started up with university money for modernizing and establishing transdisciplinary labs and methodology. These new research facilities, available to all members, are accompanied by the institutions of the ingoing members. Members accept that research facilities available to them may also be used by all other members of the Center (irrespective of eventual financial support and time constraints which have to be regulated by the persons involved). The Center also has a small annual budget for various purposes.
The ordinary members vote the steering group of the Center which in turn votes the Speaker. Scientific administration of the Center is based on the Scientific Secretary whose position is fully established within the Center.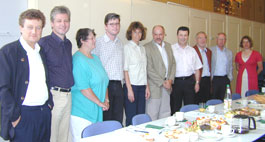 Founding group of the GeoBio-CenterLMU on August 5th, 2002 [more info]