Restorpeat
http://www.restorpeat.alterra.wur.nl/p_frameset.htm
Period
1 December 2005 - 30 July 2008
Partners in Europe
Co-ordinators
Alterra
Dr. Henk Wösten
Droevendaalsesteeg 3
P.O. Box 47
6700 AA Wageningen
The Netherlands
Tel.: +31 317 474287
Fax: +31 317 419000

E-Mail
University of Nottingham
School of Geography
Dr. Jack Rieley
University Park
Nottingham NG7 2RD
United Kingdom
Tel.: +44 115 9515449
Fax: +44 115 9514249

E-Mail

E-Mail
Contractors
Alterra
Dr. Henk Wösten
Droevendaalsesteeg 3
P.O. Box 47
6700 AA Wageningen
The Netherlands
Tel.: +31 317 474287
Fax: +31 317 419000

E-Mail
University of Nottingham
School of Geography
Dr. Jack Rieley
University Park
Nottingham NG7 2RD
United Kingdom
Tel.: +44 115 9515449
Fax: +44 115 9514249

E-Mail

E-Mail
University of Leicester
Department of Biology
Dr. Susan Page
University Road
Leicester LE1 7RH
United Kingdom
Tel.: +44 116 2525493
Fax: +44 116 2525408

E-Mail
Ludwigs-Maximilians-Universität (LMU) / GeoBio-Center, Munich
Dr. Florian Siegert
Großhadenerstr. 2
81667 München
Germany
Tel.: +49 89 48954765
Fax: +49 89 48954767

E-Mail
University of Helsinki
Department of Forest Ecology
Dr. Harri Vasander
P.O. Box 27 (Latokartanonkaari 7)
F-00014 Helsinki
Finland
Tel.: +358 9 191 58140
Fax: +358 9 191 58100

E-Mail
Partners in Asia:
University of Palangka Raya
Centre for International Co-operation in Sustainable Management of Tropical Peat
Ir. Suwido H. Limin Ms
Jalan Yos Sudarso
Palangka Raya 73112
Indonesia
Tel.: +62 536 36880
Fax: +62 536 21002

E-Mail
Gadjah Mada University
Department of Soil Science / Fact. Of Agriculture
Dr. Bostang Radjagukguk
Sekip Utara
55281 Yogyakarta
Indonesia
Tel.: +62 274 901091
Fax: +62 274 563062

E-Mail
University of Sriwijaya
Environmental Study Centre
Dr. Fachrurrozie Sjarkowi
Kampus Indralaya
Palembang
Indonesia
Tel.: +62 711 440943
Fax: +62 711 580640

E-Mail
Universiti Sains Malaysia
Department of Environmental Science
School of Biological Sciences
Professor Mashhor Mansor
11800 Penang
Malaysia
Tel.: +604 6577888
Fax: +604 6565125

E-Mail
Universiti Malaysia Sarawak
Centre for Technology Transfer & Consultancy
Dr. Murtedza Mohamed
94300 Kota Samarahan
Sarawak
Malaysia
Tel.: +60 82 671000
Fax: +60 82 672303

E-Mail
Stesen Mardi Sessang
Mr. Jamaludin Bin Jaya
P.O. Box 59
95407 Saratok
Malaysia
Tel.: +083 437 422
Fax: +083 437 421

E-Mail

E-Mail
Agency for the Assessment and Application of Technology (BPPT)
Dr. Bambang Setiadi
Jalan M.H. Thamrin 8
Jakarta 10340
Indonesia
Tel.: +62 21 3169705
Fax: +62 21 324255

E-Mail
Financing
From EU 6th framework programme
Project coordinator institution
ALTERRA, The Netherlands
Project leader
Dr. Henk Wösten
Project Summary
The project aims at research and development of new methods on the sustainable restoration of disturbed tropical peatlands and peat swamp forest ecosystems. The implementation will involve a range of measures including blocking of channels and drains, restoration of hydrology and ecological functions, rehabilitation of peat swamp forest and its biodiversity, identification of alternative funding mechanisms to promote sustainable livelihoods and formulation of guidelines for sustainable agriculture and forestry. These will be linked to a better understanding of the socio-economic base of local people and their communities by determining the nature and degree of their dependence on renewable natural resources and how this has been affected by major land development projects and fire. The problems of fire and inappropriate land use planning will be addressed by developing a model fire hazard warning and control system based upon remote sensing and operated by local communities through promotion of fire awareness, prevention and suppression. Stakeholder platforms and skills transfer to the DCs will be focal activities to provide ownership of the project outputs to the bottom levels and, through partnership with local governments, empower local people to become guardians of their own environment and its resources.
The RESTORPEAT project objectives
The following objectives have been identified in the project proposal:
Coordinate international activities that address global and regional issues of carbon balance, water management, biodiversity conservation and poverty alleviation related to restoration and management of tropical peatland;
Provide access to existing knowledge and expertise and conduct targeted research on restoration of tropical peat swamp forest to promote sustainable livelihoods of local people;
Provide a scientific and technological framework for knowledge transfer and human capacity development related to restoration of tropical peatland to the benefit of the EC and DCs.
---
Actions taken in RESTORPEAT
Restore tropical peatland by recreating environmental conditions for reinstatement of ecological and natural resource functions and promote integrated, multiple land use to minimise damage to the peat carbon store and maximise potential for carbon sequestration;
Promote sustainable livelihoods for members of local communities to alleviate poverty and protect and enhance natural resources;
Develop a fire hazard warning system for forest and peatland based upon remote sensing and linked to local community awareness, prevention and suppression measures so that peatland restoration can be effective;
Forge partnerships between local communities, local governments, DC Government Agencies, NGOs, international experts and other stakeholders to promote restoration and sustainable management of tropical peatland natural resources and ensure sustainability of the project objectives and outputs in the DCs after EU funding ends;
Transfer knowledge of peatland restoration from EC partners to DCs by appropriate information dissemination activities, case studies and training programmes.
---
Dissemination of project results
Results of the project will be disseminated to the target audience and stakeholders, including:
European Commission;
Development funding agencies;
National Water Authorities, Agricultural and Environmental Government Departments, and Agencies in the countries where the project will take place;
Regional and local Water, Agricultural and Environmental Government Departments, Agencies and Bodies;
International, regional and local Non Governmental Organizations;
Farmers' and landowners' associations;
Scientific community.

Illegal logging in tropical peat swamp forests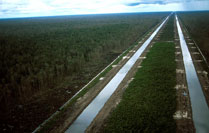 Drainge of pea domes increases fire risk

Peat fires release huge amounts of carbon dioxide

Undisturbed peat swamp forest is a carbon sink.